Kansas Whitetail Deer Hunts in Unit 14:
The biggest question when planning a trophy whitetail hunt is: What kind of deer are there? We have some true bruiser bucks on this property. We produced a 266 2/8" B&C monster whitetail buck in 2006, the new #3 non-typical in the state of Kansas. Taking a 150" class buck on our property is a real possibility for those hunters who pass on younger bucks and match wits against the mature deer.
Kansas already has good genetics in their whitetails, but add to that our crops and natural food supply and you have the recipe for success. Next, add a good measure of habitat with good management practices and we will produce trophy bucks every year! Your Kansas Whitetail hunt will be one to remember.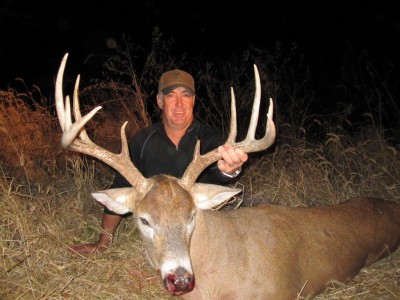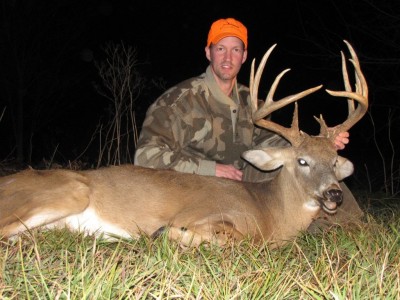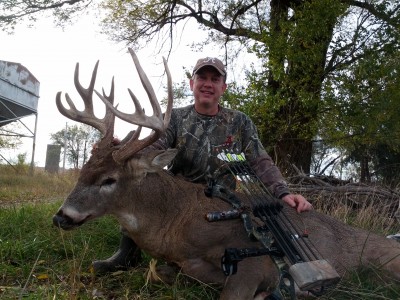 Details About Your Kansas Whitetail Deer Hunt:
You'll be hunting in Kansas Unit 14. This is a semi-guided deer hunt, unlike a self-guided hunt; you are not all on your own. We have maps and markers to help you find your way in and back out from the stands. We have tree stands located in all the right spots. Stand locations are surveyed from aerial maps and strategically placed with several years of scouting and reports from previous clients. We monitor the deer activity and history in determining where to place the stands. We try to put them in the best spots; however, if you find a spot that looks hot, the stands can be moved. We provide lodging, aerial maps, tree stands and a place to care for your deer after harvest. Lodging is provided in either a local motel or a cabin where you can cook your own meals. Meals are not provided.
Kansas Deer season begins mid September with muzzleloader season.
*In addition you must purchase the necessary permits and licenses. You must have a valid hunter's safety card in your possession if born on or after July 1, 1957.
Kansas Whitetail Deer Hunting Rates:
5 day semi-guided whitetail deer hunt $3000.
Does can be harvested at no extra charge. Doe tags can be purchased over the counter.
Varmints can be hunted at no extra charge during your hunt.
Turkeys can be harvested on a trophy fee basis of $500 per bird. Tags are available over the counter or on-line.
Kansas Deer Tags:
Unit 14 whitetail deer tags in Kansas are awarded on a lottery drawing basis. The applications for the tags are usually available by April and need to be completed by the end of April. The actual drawing takes place in June. You can find this application and more information at the Kansas Department of Wildlife and Parks website: www.kdwp.state.ks.us. A 50% deposit holds your spot and will be refunded by July 31st if you fail to get drawn.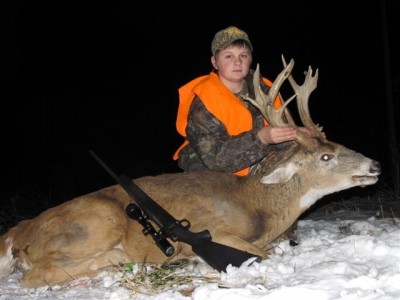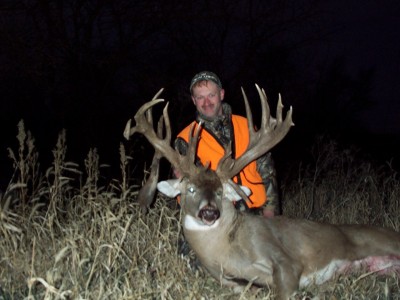 Additional Notes:
50% Deposit is required at time of booking of your hunt
All hunts must be paid in full NO LATER THAN 30 DAYS IN ADVANCE of your scheduled hunting dates.
Our hunting packages DO NOT include your Kansas hunting license or Kansas unit 14 whitetail deer tags.
Your desired hunting dates can only be confirmed after we have received your 50% deposit. We must receive the deposit for YOU AND YOUR ENTIRE GROUP no later than 7 days after we have agreed on hunting dates. Otherwise, your dates will go back into the "available" status.
Send Deposits to:
Twin Lakes Trophy Hunting, LLC.
920 T Ave
Council Grove, KS 66846
Cancellation Policy:
If you cancel before July 1st, your deposit will be refunded less a 10% processing fee. If you cancel after July 1st of the year of your hunt, your entire deposit will be forfeited. If a member of your party does not show up for the hunt 100% of the price will still be due.
Book early to get the most desirable dates! Many of our returning clients book the majority of our limited dates a year in advance.
What is NOT Included:
1. Food
2. Transportation to and from pasture. 4WD advised.
3. Hunting licenses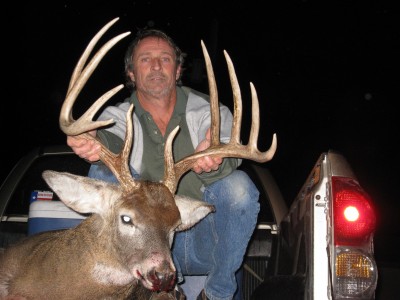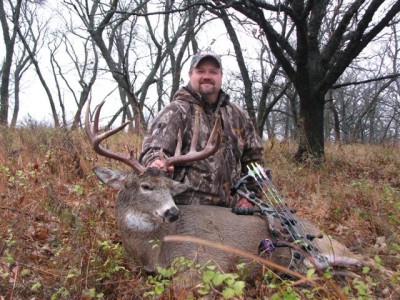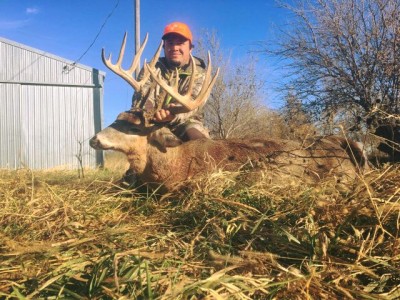 Restrictions:
1. Bucks must be 125" minimum gross score Pope & Young. Management fee of $500 for bucks not making minimum. Any deer over 5-1/2 years old: no fee
2. Limit: one buck or mature doe.
3. Release of Liability needs to be signed upon arrival.
5. Please, no firearms allowed on ranch
6. No draw-locks allowed
7. Cross bows allowed only for upper-limb physically disabled individuals
8. Other terms can be discussed
Call to reserve your hunt today! Our impeccable reputation for honesty, integrity, good value, hunter success and ongoing communication, as well as our many references speak volumes about the professional nature of our business. Feel free to call or e-mail with any questions. I'll be glad to answer them. The only thing you will need is your Kansas hunting license, Kansas Unit 14 whitetail deer tag and transportation to your tree stand.